Volunteers are needed to assist in every aspect of this event. Volunteers must be at least 18 years of age by July 27th to participate.
General Volunteers

Set up & break down clinic
Monitor the patient line & escort patients
Register patients & volunteers
 Provide hospitality
IT support
Translation
Parking
Security
Clinical Dental / Medical Volunteers
Licensed professionals are needed to provide direct patient care. If you are licensed in the state of Maryland, you must submit your license information during registration for verification. If you are licensed outside of the state of Maryland, you will need to submit an Application for Temporary Volunteer Dentist's License or an Application for Temporary Volunteer Dental Hygienist's License. Applications can also be accessed from the on-line registration form.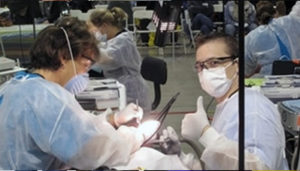 Medical pre-screening
Dental hygiene (cleanings, education)
X-rays
Chair-side assisting
Sterilization
Dental services (triage, fillings, extractions, oral surgery, root canals)
Post-op
Students
"Dental Students" and "Hygienist Students" are volunteers that are currently enrolled in a "School of Dentistry" or a "School for Hygienists" and are on track for taking their Board Examinations. Students can volunteer in specific areas that need their dental and medical backgrounds, including: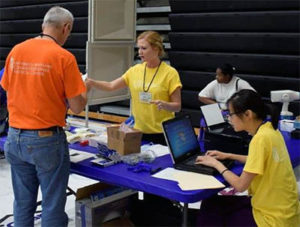 Supply and inventory
Sterilization
Patient registration
Chair-side assisting
Volunteer Registration
Register now to volunteer at the July 2018 SMMOM clinic in Waldorf, MD.
Where to Stay
Local Hotel Information
The Waldorf area has many good choices for hotels.  Your best prices will be found online.  Here are just a few:
Trip Advisor: http://www.tripadvisor.com/Hotels-g41420-Waldorf_Maryland-Hotels.html#MAPVIEW
Expedia:  https://www.expedia.com/Waldorf-Hotels.d6057464.Travel-Guide-Hotels
Priceline: https://www.priceline.com/stay/search/hotels/3000009305/1/?searchType=CITY&page=1
Travelocity:  https://www.travelocity.com/Hotel
RV Accommodations
Smallwood State Park
2750 Sweden Point Road Marbury, MD 20658
17.2 miles from North Point High School
http://www.charlescountymd.gov/locations/smallwood-state-park-campground
Cedarville State Park
10201 Bee Oak Road Brandywine, MD 20613
10.8 miles from North Point High School
http://www.charlescountymd.gov/locations/cedarville-state-forest